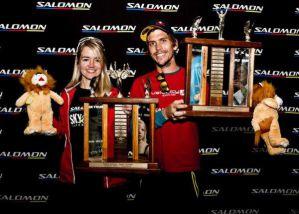 PERSONAL PROFILE
After finishing school in 2001, I braved the borders and went to England where I worked and travelled for two years. Upon my return to South Africa I enrolled for the B Com Degree at the University of Pretoria. It was during my study years where I picked up my running career and started training seriously in 2007. I initially started out as a road runner, but in May 2008 I was exposed to my first off-road event, an adventure race in the Gauteng area. My second race resulted in a win, followed by a number of podiums in the off-road races to follow.
I completed my B Com Honours degree in 2007, where after I started working for Pricewaterhousecoopers to complete my articles. I started competing in trail running events in 2009, immediately stamping my authority by obtaining podium positions in every race.
After qualifying as a Chartered Accountant at the end of 2010, I was seconded by PWC to
work in the USA for 4 months. During this time I competed in numerous trail runs, winning the female category in every race.
Once back in South Africa, I lived in the Garden Route for a year, whereafter myself and my husband moved to the Stellenbosch area. My latest results included a win and a new record at the gruelling Salomon Skyrun, a third place at the Otter Trail run, a win against some of the country's top runners at the Two Oceans Trail run in April 2012, the Old Fisherman's Trail Challenge in June 2012 as well as the Houtbay Challenge in July 2012. I was also recently nominated to represent South Africa as the female trail runner for the World Mountain Running Championship in Italy and Switserland in September 2012.
Race held in May which forms part of the AR World Series.
In order to further my academic career, I am currently in the final stages of my Masters in Taxation at the University of Pretoria. Apart from competing in sport events, I am also organizing the Diamond Dash off-road events in and around Gauteng.
The following events have been/will be covered by Supersport:
Salomon Featherbed Trail Run
Otter Trailrun
Salomon Skyrun
Pronutro African X
Two Oceans Trail Run
Houtbay and Old Fisherman's Challenge
Sport Achievements

| Date | Event | Description & Venues | Position |
| --- | --- | --- | --- |
| March 2010 | Kinetic AR | Gauteng | 1st Mixed Pair |
| May 2010 | Pronutro African X | Western Cape | 2nd Female Pair |
| June 2010 | Gauteng Winter Trail Series | Gauteng | Female : Series Champion |
| August 2010 | Wonderboom Trail run | Gauteng | 1st Female |
| September 2010 | Mont-Aux Sources Challenge | KZN | 2nd Female |
| September 2010 | Kinetic AR | Gauteng | 1st Mixed Team |
| October 2010 | Kinetic Full Moon 120km AR | Free State | 1st Team |
| December 2010 | Abu Dabi Adventure Challenge | Abu Dhabi | 17th Position |
| January 2011 | Bayo's Bend Trail Run | Texas, USA | 1st Female |
| February 2011 | Austin Livestrong Half Marathon | Texas, USA | 4th Female in age group |
| March 2011 | Run-to-the-Altar Trailrun | Texas, USA | 1st Female |
| April 2011 | San Luis Mountain Run | California, USA | 1st Female |
| May 2011 | Mosselbay Mall 21km | Western Cape | 1st Female |
| May 2011 | Asics Xtreme17 Trailrun | Western Cape | 1st Female |
| June 2011 | The Wreck Challenge Duathlon | Western Cape | 1st Female |
| July 2011 | Salomon Featherbed Trail Run | Knysna, Western Cape | 1st Female |
| July 2011 | Duesouth Xterra | Knysna, Western Cape | 2nd Female |
| July 2011 | Knysna Big 5 Challenge | Knysna, Western Cape | 2nd Female |
| July 2011 | Grootvadersbosch Trail Challenge | Heidelberg, Western Cape | 1st Female |
| July 2011 | Houtbaai Trail Challenge | Houtbay, Western Cape | 3rd Mixed Team |
| August 2011 | Outenikwa Traverse | George, Western Cape | 1st Female, 2nd Overall |
| August 2011 | Kinetic Full Moon | Lydenburg, Mpumalanga | 1st Team |
| September 2011 | Otter Trail Run | Tsitsikamma, Eastern Cape | 3rd Female |
| October 2011 | Hobbit 100km Trail Run | Hogsback, Eastern Cape | 1st Female, 4th Overall |
| October 2011 | Hermanus Beach&Berg Trail Run | Hermanus, Western Cape | 1st Female |
| October 2011 | Hoekwil Trail Run | George, Western Cape | 1st Female, 3rd Overall |
| October 2011 | Hermanus Berg&Beach | Hermanus, Western Cape | 1st Female |
| December 2011 | George 200 Trail Run | George, Western Cape | 1st Female |
| February 2012 | New Balance Trail Run | Grabouw, Western Cape | 2nd Female |
| March 2012 | Pronutro African X | Kleinmond, Western | 2nd Mixed Team |
| March 2012 | Cape Epic Vineyard Trail Run | Somerset West, Western Cape | 1st Female |
| March 2012 | Bains Trail Run | Wellington, Western Cape | 1st Female |
| April 2012 | Two Oceans Trail Run | Cape Town | 1st Female |
| April 2012 | Mast Challenge | Tokai, Western Cape | 2nd Female (Queen of the Mountain Category) |
| April 2012 | Constantia Valley Trail Run | Constantia, Western Cape | 1st Female |
| May 2012 | Expedition Africa 500km AR | Port Alfred | 2nd Team |
| May 2012 | Oorlogskloof 42km Trail Run | Nieuwoudtsville, Northern Cape | 1st Mixed Team |
| June 2012 | Old Fishermans Trail Challenge | Hout Bay, Western Cape | 1st Female |
| June 2012 | Slayley Trail Run | Stellenbosch, Western Cape | 1st Female |
| July 2012 | Num-Num Trail Challenge | Mpumalanga | 1st Female |
| July 2012 | Featherbed Trail Run | Knysna | 1st Female |
| July 2012 | Bastille Trail Run (35km) | Franschhoek | 1st Female |
| July 2012 – Aug 2012 | Winter Trail Series | Western Cape | 1st Female |
| Sept 2012 | World Short Distance Mountain Running Champs | Italy | 66th Senior Lady |
| Sept 2012 | World Long Distance Mountain Running Champs | Switserland | 30th Senior Lady |
| October 2012 | Otter Trail Run | Tsitsikamma | 3rd Female |
| November 2012 | Salomon Skyrun | Lady Grey | 1st Female, 6th Overall |
2013 Planned events

| Date | Race | Distance | Venue |
| --- | --- | --- | --- |
| 13-Jan | Totalsports Challenge | Various events | Kleinmond |
| 02-Mar | Addo Trail Run | 76km | Addo Elephant Park |
| 29-Mar | Two Oceans Trail Run | 22km | CT |
| 19-21 April | African X | 90km/3days | Grabouw |
| 05-May | Jonkershoek Mountain Challenge | 30KM | Stellenbosch |
| 19-May | Helderberg Mountain Challenge | 24km/15km | Somerset |
| 08-Jun | Arangieskop Trail Challenge | 24km | Robertson |
| 27-29 June | Aussenkehr Desert Extreme | 100km/3days | Namibia |
| 6-7 July | Trail Running World Champs | 70km | Wales |
| 09-Jul | Salomon Featherbed Trail Run | 15km | Knysna |
| 19-21 Jul | Grootvadersbos Trail Challenge | 50km/2days | Heidelberg |
| 27-Jul | Fish River Canyon | 90km | Namibia |
| 03-Aug | World Long Distance Mountain Running Champs | 42km | Poland |
| 31-Aug | Green Mountain Trail | 21km | Botrivier |
| 14-Sep | Thule 4 Peaks | 24km | Cape Town |
| 22-Sep | Otter Trail run | 42km | Tsitsikamma |
| 4-6 Oct | Berg&Beach Trail Run | 50km/2days | Hermanus |
| 02-Nov | Skyrun | 100km | Lady Grey |
| 23-Nov | Redbull LionHeart | 8km | Cape Town |
| 07-Dec | Muizenberg Trail Run | 12km | Muizenberg |