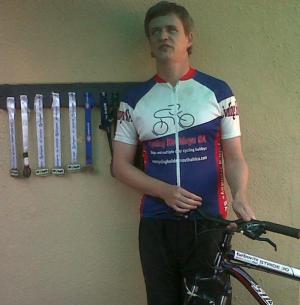 At a Glance- 
I went to school for the blind in Worcester. It was always my dream to be a professional cyclist. In high school, me and my brother built our own tandum and started to race. After many years of saving, I got myself a second   hand tandum. In 2007 we started to practice for 3 years. In 2010 we competed for the first time. I was born blind,but doctors only diagnosed me at 7 months with Glycoma.
•
WP cycling PD Tandum league
WP cycling PD League road race series 5
Overall 2nd, but 1st in Tandum
•
Die Burger cycling tour 92km –
Damaged tandum, walked 18km.
•
 84km Boland drukpers prettrap
•
 30km Engen dynamic cycle challenge
•
 2012 Cape Argus – damaged tandum
·

         
To qualify for WP
·

         
To win Nationals
·

         
To race internationally
Wish List
 1.  Monthly cycling expenses: x 2 FOR BOTH RIDER AND PILOT
Hammer Endurolyte fix tabs 13's x 6                     R360

USN Recovermax x 2                                           R390

Epic pro all in one x 2                                           R738

Usn Enduro carbs x 2                                           R240

Vooma x 6                                                           R150

 
            Total:                           R  1878.00     per month 
2.  Extras needed: X 2 FOR BOTH RIDER AND PILOT 
NEW TANDUM                                                     R?

Racing shoes clip ons x 2 pairs                             R2600

Gloves x 2 pairs                                                   R300

New cycle helmet x 2                                           R800

Flashing light                                                       R500

Long sleeve second skins x 2                               R?

Racing glasses                                                    R?

 
            Total:                           approximately  R   4200 +