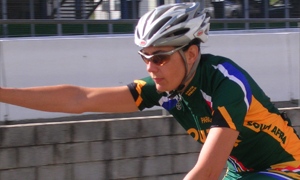 BIO: I grew up in a small platteland town, Despatch. I joined the ballet school at the age of 4 and traded my pointers for a pair of netball tekkies 7 years later. I received my provincial colours in std 4 for netball and represented the Eastern Province every year thereafter until 2000 when we relocated to Cape Town. I represented Western Province in netball and action netball.  In 2005 I was part of the South African Action netball Elite ladies team that travelled to Surfer's Paradise on the Gold Coast of Australia.  I played the best netball of my life at this tournament and was awarded the Best South African Action Netball player of the tournament.  In 2006 I again represented South Africa in Action netball and played in a test series against Australia in Johannesburg and Pretoria.  Shortly thereafter, I retired from the sport, not because I wanted to, but because I had to due to recurring back pain.  I started cycling competitively from the end of the 2007.
I was employed by the SAPS Forensic Science laboratory for 3 years working in the DNA section. In 2003,  I joined DISA Vascular where I am the production manager today. 
I married James van Rensburg on 19 July 1997.  We are very happily married and have 2 border collies, Angel (who is 14 years old) and Jesse (who is 1.5 years old).  We enjoy doing things together; fishing, snorkel diving, camping, going for walks, cycling.
Proudest athletic accomplishment? 
2005 South African Action Netball Player of the tournament Surfers Paradise, Australia
2011 South African team to participate at UCI Paracycling team to Sydney
What's the strangest thing a spectator has ever said to you while racing? 
Jeez, that was a spectacular crash!
What characteristics do you most respect in your competitors? 
Not giving up
If you weren't racing, what would you be doing? 
Surfing my longboard
Song title that best fits your personality/spirit? It's my life by Bon Jovi
If you were a contestant on Survivor, what would be your one comfort item from home?
My Blackberry with a spare battery
Personal causes you're involved in? Guts to Glory
Three things people don't know about you? 
I love sleeping
I am a vivid dreamer (full colour and intricate detail)
I love the beach and the ocean