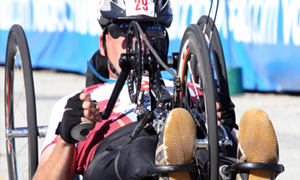 BIO: I broke my back in a motor vehicle accident in 1992 when I was 24 and was left with a completely severed spinal chord at level T8 (8th Thoracic Spinal Vertebrae.)
I am now 44.  After the accident I studied at an advertising school and am currently employed as a copywriter at JWT, an advertising agency in Cape Town.
I've been pretty active throughout my years as a paraplegic, with regular swimming as my main source of fitness – really good for circulation, particularly when in a wheelchair.
In September 2007 I rode my first handcycle and was hooked. The outdoors, exercise, the speed, the ease of movement when compared to a wheelchair and the social nature of the sport, all colluded to fuel my addiction.
I am currently a member of the South African Paracycling Team and will be off to the Paracycling World Championships in Roskilde, Denmark taking place from the 8th to the 10th of September.
Proudest athletic accomplishment?
A: 6th place in the Time Trial and Road Race at 2011 UCI Paracycling World Cup in Segovia, Spain and a sub 4 hour Argus this year.
What's the strangest thing a spectator has ever said to you while racing?
A: Don't fall asleep, hey!
What characteristics do you most respect in your competitors?
A: Humility.
If you weren't racing, what would you be doing?
A: Lying on the couch eating pizza
Song title that best fits your personality/spirit?
A: Every Little Thing Gonna be Alright (Bob Marley)
If you were a contestant on Survivor, what would be your one comfort item from home?
A: My Feather Duvet
Personal causes you're involved in?
Three things people don't know about you?  
A: Love chili, red wine and reggae.