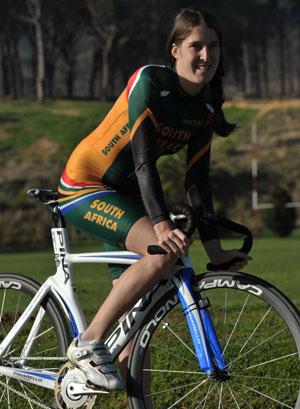 Biographical sketch
Since 2005, I have contributed towards making the South African para-cycling team one of the most competitive teams internationally. Highlights in terms of my contribution include my number 1 UCI world ranking in the women's C4 division in 2010, my World Championship silver medal achievement in that same year, and numerous medal and top-3 finishes in a range of UCI World Cup and P1 championship events subsequently (see accompanying summary of achievements).
The highlight of my cycling career, thus far, was my selection to the South African para-cycling team that participated in the 2008 Beijing Paralympic Games. As an 18-year old, I achieved a 6th place finish in the event that has now become my specialisation, the 500m track time trial. 
Under the expert supervision of both Stellenbosch University's Sports Science Institute and Cape Town's Sports Science Institute of South Africa, I have incrementally improved my cycling performance on the track, to the extent that I believe that I can challenge for a podium finish in the London 2012 Paralympic Games. I have been selected for the 2012 South African Paralympic Squad and know that I have the potential for selection to the national Paralympic team. 
My physical disability stems from the rare genetic condition that I have, which is Ataxia telangiectasia (AT). This is an extremely rare condition that manifests in early childhood and progressively affects gross and fine motor coordination. In some respects it is similar to cerebral palsy. 
With excellent institutional support, I studied Sport Science at Stellenbosch University and graduated at the end of 2010. I am currently completing a UNISA post-graduate diploma. Of necessity, my current studies are part-time, as I spend most of each day engaged in cycling, both on the bike and in the gym. 
My commitment to cycling imposes many opportunity costs, the most significant of which is deferment of a salaried career. Currently, the investment I am making in cycling is almost entirely funded through my own limited financial resources. I am, therefore, very interested in engaging with potential sponsors who might see good opportunity in an association with the person who I am and my cycling achievements
Education
Currently: 
Currently Post Graduate Diploma in Education (Foundation Phase) 
UNISA
2007-2010     BA Sport Science Degree
Stellenbosch University
2002 -2006    Matriculated 
Rhenish Girls' High School:
Scholastic awards
2002 - 2004 
2005 - 2006
2006 School merit certificate 
School honours
Ebenezer Cup for Perseverance and Louise Garlick Medal for Courage and Determination
2012    School athletics team
Delmar Cup (School's Sports Woman of the year)
Honours for athletics
Vice Captain of Athletics Team
Hockey (C-team): U/14; U/16; U/19
SA Nedbank National Championships for the Physically Disabled: 
3 gold medals
SA Nedbank National Championships for the Physically Disabled: 
5 gold medals
Nedbank Trophy  -  Best Junior athlete
SA Nedbank National Championships for the Physically Disabled: 5 gold medals
SA Nedbank National Championships for the Physically Disabled: 5 gold medals
Captain of the Provincial team.
Winner of Western Province Sports Writer's Award (Sportswoman of the month) 
Nominated for Western Cape Provincial Premier's award for Sportswoman of the Year
SA Nedbank National Championships for the Physically Disabled: 5 gold medals
South African Para-cycling team that participated in the CPISRA World Championships, Connecticut, USA in July: 5 gold medals 
South African Para-cycling team that participated in the European Open Championships, Alkmar, Netherlands in July.
SA Nedbank National Championships for the Physically Disabled: 5 gold medals
SA Nedbank National Championships for the Physically Disabled: 5 gold medals
SA Nedbank National Championships for the Physically Disabled: 5 gold medals
Captain of the Western Province Provincial team 
South African Para-cycling team that participated in the Beijing Paralympic Games: 6th in the 500m track individual time trial, 9th in the 3000m track pursuit, and 10th in the road time trial
Awarded Stellenbosch University Sports colours.
SA Nedbank National Championships for the Physically Disabled: 5 gold medals
Invited to Participate in the BT Paralympic track World Cup: 3rd in both 500m time trial and 3000m pursuit events
UCI Para-cycling Track World Championship, Manchester: silver in 500m time trial and 3rd in 3000m pursuit
Awarded Stellenbosch University Sports colours.
SA Nedbank National Championships for the Physically Disabled: 4 gold medals
South African Para-cycling team that participated in the Wales Grand Prix track championships: 1st  in both 500m time trial and 3000m pursuit events
UCI Para-cycling road World Cup, Spain: 3rd in both road race and time trial
Track Europacup, Germany: 1st in the 500m time trial and 3rd in the 3000m pursuit events.
Stellenbosch University Disabled Sport Woman of the year
Western Province Sport Woman with a Disability of the year
Nominee for Western Cape Sports Woman with a disability of the year
SA Nedbank National Championships for the Physically Disabled: 4 gold medals
South African Para-cycling team that participated in the UCI road World Cup, Australia: 3rd in both road Race and  time Trial
South African Para-cycling team that participated in the UCI track World Championships, Italy: 4th in the 500m time trial and 6th in the 3000m pursuit
South African Para-cycling team that participated in the UCI Oceania track event, New Zealand: 2nd in the 500m time trial and 3rd in the 3000 pursuit.
Awarded Stellenbosch University Sports Colours
Western Province Sport Woman with a disability of the year
Selected for the Provisional South African Para cycling Squad for the London 2012 Paralympic Games.
South African Para-cycling team that participated in the UCI track World Championships, USA:5th in the 500m time trial and 3000m pursuit
Selected for the Western Province team to participate in the  SA Nedbank National Championships for the Physically Disabled