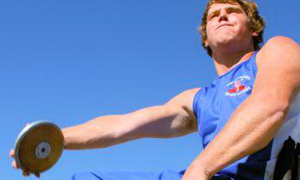 I was born on 2 March 1990. My parents got devorced when I was at the age of 3.  I attended Paarl boys High school from grade I to matric.  I had my accident on a motorbike in my matric year, which left my sporting dreams shattered, but at the same time opened other doors in disability sports. I am an outgoing spontaneous person always ready for a challenge.

Specification: "ATHLETE NAME: Glenn Ward, (21) SPORT: Athletics, bodybuilding and handcycling BIRTHPLACE: Paarl CURRENT RESIDENCE: Paarl".
Proudest athletic accomplishment?  2 Gold medals at SA champs
Previous achievements:
2002 U/13A cricket
2003 U/13A cricket
2003 U/13A rugby
2005-2008 U/19A cricket
2007-2008 best sportsman of the year
2005 Boland cricket
2006 WP Craven week rugby
2008 U/19A rugby 
After my accident:
2009 WP colours athletics
2010 SA champs 2 Gold medals shot-put & discuss
2010 Saldanha to Cape town 
Current hand cycling, gyming & swimming
If you weren't racing, what would you be doing?  
Spending time with the most amazing person, or training in the gym.
Song title that best fits your personality/spirit? 
One republic good life
If you were a contestant on Survivor, what would be your one comfort item from home?  
My bible
Personal causes you're involved in?  
Help raise funds for  the disadvantaged people living with disibilities so that they can compete in sport in the saldanha area.