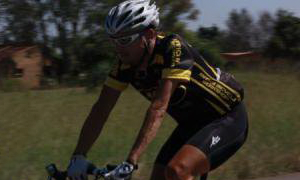 BIO: I was born in 1974 in a small town in the Eastern Cape called Uitenhage. I was a scholar at Despatch High school and if you know anything about rugby, you would know that it was the capital "city" of rugby in South Africa. In 1993 my final year of schooling, I was involved in a motorbike accident and damaged the brachial plexus nerve system of my left arm.  For the next 2 years I was in and out of hospitals in Pretoria.  I went for 2 operations were the doctor removed nerves from my calves and transplanted these into my arm in an attempt to reconnect the nerves. After countless physiotherapeutic sessions and a lot of hard work I managed to restore about 10-15% of the use of my left arm. I'm married to Michelle for 14 years now with 2 Border Collies as kids.
In 2008 I did my first Mountain bike race in Tokia, Cape Town. I crash and burned big time but was hooked on the sport. In 2009 I started competing in the Western Cape sport for physically disabled road leagues.  

I was selected to represent the Western Province team at the 2009 South African national road championship and won the Time Trial (C5 Class) and came second in the Road race (C5 Class). The biggest surprise for me was getting selected to the South African squad and representing South Africa at the UCI Paracycling road World Championship (C5 Class) in Italy. In 2010 I competed again in the South African national road championship winning the Time Trial and Road race in the C5 Class. I was selected to represent South Africa at the UCI Paracycling road World Cup (C5 Class) in Spain. This year I won the Time Trial and Road race in the C5 Class at the South African national road championships. In the last two years I have also started competing in more mountain biking races and is dreaming of competing in the ABSA Cape Epic.

Specification: "ATHLETE NAME: James van Rensburg SPORT: Cycling BIRTHPLACE: Uitenhage, South Africa CURRENT RESIDENCE: Brackenfell WEBSITE: www.jamesmtb4glory.blogspot.com".

Proudest athletic accomplishment?  
Representing South Africa at the 2009 Para-cycling World championships in Italy.
What's the strangest thing a spectator has ever said to you while racing?
Racing the 55km Lourensford mountain bike race in Somerset-West, at a waterpoint one of the volunteers  realizing that I have a disability, asks me: "How did you get here" I could only smile back.
What characteristics do you most respect in your competitors? 
People or competitors not giving up 
If you weren't racing, what would you be doing?  
Most probably be snorkelling, spearfishing or body boarding. Love the ocean. 
Song title that best fits your personality/spirit?  
"Eye of the Tiger" by Survivor 
If you were a contestant on Survivor, what would be your one comfort item from home? 
My Dog ANGEL 
Personal causes you're involved in? 
Guts 2 Glory 
Three things people don't know about you?
"THAT I AM IRONMAN" the rest needs to stay a secret.