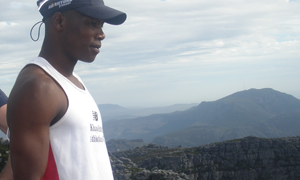 PROFILE
Ntsikelelo Mdlalana was born in the small town of Willowvale in the Eastern Cape Province. He started running in Primary School and then continued all the way thru Secondary School. Ntsikelelo became more involved in running and was selected to participate in the Provisional Championships in 2002.
He performed extremely well in track & field. Some of Ntsikelelo's best times included a 15min 45sec 5km run and blistering 31min 10sec 10km run.
A few years later Ntsikelelo moved down to Cape Town with the prospects to start working full time. But Ntsikelelo could hide his talent for long and was convinced by his former high school colleagues to start running again. 
Ntsikelelo started training immediately and joined the KHAYELITSHA ATHELETICS club which is coached by Nelson Tshambo. Ntsi was fit and ready to compete in his first race when tragedy hit...
It was on Monday the 13th of August 2007, Ntsikelelo and his friend were sleeping in the shack. It was cold that day, so they used a 2 Banner stove as the heater. Unfortunately they
forgot to switch off the stove and by midnight they heard neighbours screaming and crying outside banging the door – the shack is burning!!! When they woke up the shack was already in flames, the smoke was everywhere!
They were unable to find the door. But luckily, Ntsikelelo was able to escape but was unaware that his leg was stuck in between the zinc plates of the shack. Ntsikelelo could do
nothing but struggle to try and free his trapped leg. As he watched the fire get closer, it eventually got to his leg, and as Ntsikelelo describes it, "it broke like glass". He cried for
help but nobody could hear him, he eventually succumbed to the extreme pain and fell on the ground and was taken to hospital where he was unconscious for 3 weeks. When he finally woke up he was given the tragic news that his friend did not survive the fire. Ntsikelelo underwent two weeks of counseling.
THE STRENGTH
Later Ntsikelelo saw one of his friends BATHANDWA MAYIJI training and he told him that he still loves running and that he wants to come back to the club. Bathandwa and his coach (Nelson) encouraged him to come back and they invited him to come and watch the 8km fun run that was close by. Ntsikelelo went to the race with the intention of watching but he changed his mind and decided to take part and ran 8km with a time of 46 minutes. This was his first race after the accident and the ran it with crutches. He quickly entered his second race, which was a 5km fun run and posted a time of 30mins. Lee McQueen is his running partner and spokes person.